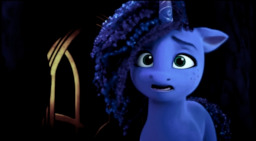 After so many nights of trying, Misty finally succeeds in capturing Sparky! She is so excited as Opaline will finally be proud of her and give her a cutie mark as promised, something she has always wanted since fillyhood.
However, she is about to learn a very hard lesson….
Part 1 of the Misty Saga. Rated T for graphic depictions of abuse around the latter half of the first section and one mild use of profanity. Proceed at your own risk.
Chapters (1)