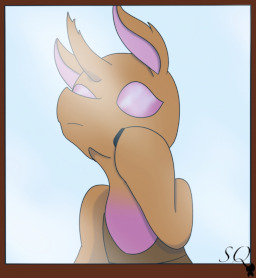 It's been so long since that day. Since I've had to live a lie. Of course, living a lie is what changelings are all about aren't we? But this lie is different. 
I'm different. I want to change but I can't. 
And everyone will hate me if they find out. 
~~
Written for the second Quills and Sofas Anonymous Contest!
Many thanks to Mushroom for proofreading the final draft for me and for everyone in Quills who commented!
Cover art by me! If you are a writer and would like cover art, send me a PM!
Chapters (1)