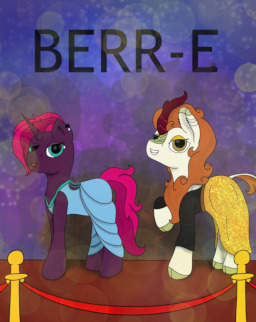 Centuries in the future, Equestria is undergoing a monumental clean up task. The last Bot Engaged in Refuse Relocation Equestria Class (BERR-E) unit has been hard at work trying to make it hospitable again. But when an Autonomous Universe Traveler (AUT) comes to Equestria, BERR-E will go on a journey across the stars. Can she finally bring ponies home to Equestria? And just how equine can a robot get?
Tempest Shadow, a household name for horror movies, has startled fans with the shocking announcement of her lead role in the new family friendly film 'BERR-E'. Even more surprising is the directors choice to have her co-lead be a no name Kirin who's been lurking in the background for years now. What will this mean for BERR-E's release? Will this be the summer's biggest flop?
Written in the Quills and Sofa's Disney Parody Speedwrite (and placed first!) Presented here with some expansion and editing.
Thanks so much to AFanaticRabbit, PinoyPony, Vis-A-Viscera, and dziadek1990 for participating in the Quills speedwrite and leaving me great comments!
A special thanks to Aurora and my friend Ember for helping to proofread and edit this final version.
Cover art by me! If you are an author and would like cover art, send me a PM!
Chapters (1)