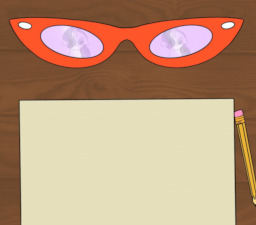 Inspiration is a fickle thing, Rarity knows this. She's known it her whole life, it's part of being an artiste after all. Some days you create for hours on end, bringing to reality countless gorgeous designs and art pieces that until a few hours ago, existed only as abstract thoughts in the mind. 
Other days, you simply sit and stare, unable to conjure the slightest idea.
Rarity has been in a slump lately, she recognizes that, but how long is a 'slump' before it becomes a new reality?
What if she simply can't create anymore?
Written for a Quills and Sofa's Panic with the prompt 'Inspiration', presented here with some editing and expansion (technically got 3rd place in a panic with only 3 entrants lol.) Many thanks to Red and Silent for kicking my butt in the panic and for Ashley and Aurora being second round proofreaders.
Cover art by me! If you are an author and want cover art, send me a PM!
Chapters (1)