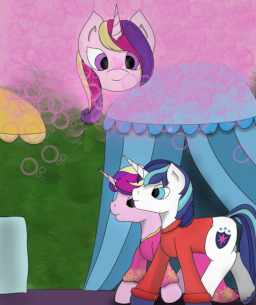 Hearts and Hooves Day in the Crystal Empire is always a special affair. After all, the love in the hearts of the crystal ponies is reflected all across Equestria. As such, it's up to Cadance, the Princess of Love, to keep up appearances and be in public all day to greet adoring fans and tourists. 
It's not as easy as it sounds, but luckily her amazing wife Chrysalis is up to the task.
Written for the Quills and Sofas Colorful Characters - Cadance Contest with the prompts 'drowning' and 'bright pink'. Presented here with a little bit of expansion and editing.
Thanks so much to everyone in Quills who read and helped me edit, as well as the few other friends I showed the early draft too; I appreciate and love you all <3.
Cover art by me! (If you are an author looking for cover art, send me a PM!)
Chapters (1)