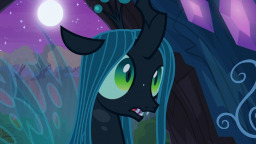 Taking a break from her schemes of conquest, Chrysalis sneaks away from her villainous allies in order for a little fun. Namely, scaring children, and eating their candy.
---
This was a request for a patron and was viewable earlier for said patrons. Head over here if you want a story like this for 5$ or to see stories early for just 3$! Yesterday's story can be found here.
Expect to see a new spooky centric story every day until Halloween!
If you want more content, then you'll be happy to know I just updated Hostile History with its thirty first chapter!
Now with a reading!
Chapters (1)