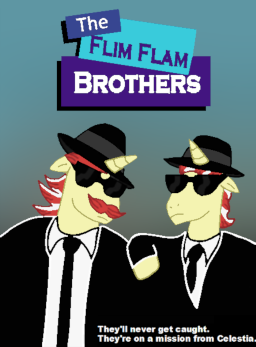 Source
Flim, of the world-famous Flimflam brothers, has just been paroled from the dungeon. Reunited with his brother, Flam, and their old friend, Trixie, they have learned that their childhood home is in imminent danger. Compelled by one or more of the Royal Pony Sisters to raise an honest fifty thousand bits in just a few days, and without the aid of the Super Speedy Cider Squeezy 6000, can they indeed redeem themselves?
High-speed carriage chases, musical numbers (both random and planned), rap battles, widespread property damage, consumption of intoxicating and/or hallucinogenic substances, arson, and generalized disturbances of the peace may all turn out to be necessary.
Not MERELY a Blues Brothers fusion. In my opinion. However, the pre-reading board of Equestria Daily disagrees in the strongest possible terms. They do, however, admit that it is "not poorly written."
Use of image generously permitted by theWalterX - check him out at deviantart!
Chapters (11)