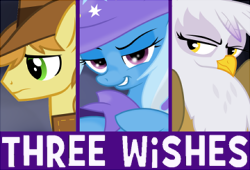 Losing her first magic duel against Twilight Sparkle did irreparable damage to Trixie's reputation as a legitimate magic user. As a result, she has had to seek a new living as a con artist and treasure hunter. When she hears about a magic artifact that will grant its user three wishes, she knows it's her chance to get the magical power she needs to have her revenge on Twilight.
There's just one catch: Trixie can't get to the artifact by herself. She enlists the help of a humiliated griffon and a good-hearted but desperate Earth pony, but will she share the wishes with them as she promises, or find a way to keep them all for herself?
This story takes place between seasons 2 and 3.
[Cover image made by yours truly using art by Killryde, Turbo740 and a01421 on Deviant Art. If you're one of those people and would like the image removed, let me know.]
Chapters (10)