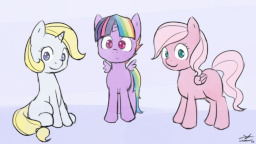 Source
Recently rewritten. Contains occasional adult humor and violence.
***
On a request from Princess Celestia, Twilight Sparkle and the rest of the mane six explore an abandoned mansion located deep in the woods. While doing so, they unwittingly stumble across an enchanted mirror that scrambles their DNA and pops out three brand new bouncing baby ponies. Hilarity and drama ensue as the mane six must cope with being suddenly thrust into motherhood, as well as protect their new foals from a dark god that wishes to use them for his own sinister gain.
***
Fanart:
The three foals. by Freefraq on Deviantart.
Chapters (2)