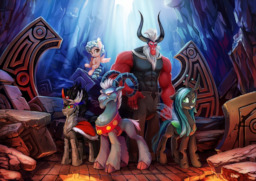 Source
Grogar's ancient machinations finally come together as he leads the Legion of Doom against Canterlot. Chrysalis, Tirek, and Cozy Glow want to rule for themselves, however, and intend to betray him as soon as it's convenient. Can Applejack, Twilight Sparkle, Pinkie Pie, Fluttershy, Rarity, and Rainbow Dash save Equestria?
Other significant characters: Spike, Starlight Glimmer, Sunburst, Trixie, Princess Celestia, Princess Luna, Princess Cadance, Shining Armor, Student/Young Six. Spoiler characters: Windigos, Mean Twilight Sparkle, King Sombra.
Author's note: I decided to rewrite episodes S9E24 and S9E25 as if Grogar were real and the finale were a four-parter. This story takes everything up to and including S9E23 as canon, and took inspiration from a huge variety of sources, including the finale trailer (though it does not strictly hold canon to the trailer).
I give my deep, heartfelt thanks my kind editors and prereaders, as well as the lovely anons on /mlp/ where I've been posting the first draft. My deepest thanks of all go to triq267, who's been helping me at every stage of the story with ideas and advice.
Featured 1/6/2020, and again 1/14/2020, 8/3/2020, 9/17/2020, 10/3/2021, and 10/25/221! Thank you guys!
Chapters (22)