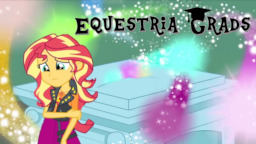 After a few years of studies and a couple years of fighting magical forces, Sunset Shimmer and her six friends are all set to graduate from Canterlot High and are eager to seek out their futures. That is, except for Sunset Shimmer, who has started to become a little homesick for Equestria, and as such, is unsure of which world she should stay in.
Meanwhile, the magical buildup behind the cracked portal causes it to grow into a big gaping hole, causing larger quantities of magic to leak into their world and threaten to contaminate more than just their city. Will the seven girls be able to stop the flow of magic for good in time for graduation, and will their friendship be able to survive this catastrophe?
This story is my vision of Equestria Girls getting a true finale.
Based on an idea by Cameron Marston.
Chapters (9)