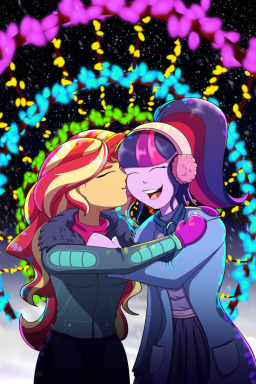 Cover art by Little Tigress!
It's the start of the holiday season, and Crystal City Institute of Technology freshman Twilight Sparkle is eagerly anticipating her reunion date with her long-distance girlfriend Sunset Shimmer, who's spending two nights at her dorm before they join their old friends at Canterlot. But as they visit Crystal City's famous winter light festival together, Sunset can't help but notice Twilight's a little uncomfortable talking about campus life; can she bring her friend-turned-lover some Christmas cheer?
Read on for a Sciset (aka Sunlight) holiday date filled with fluff, angst, cuteness, humor, more angst, comfort and charm! And, if you stick around long enough, you can learn about a sore spot in the production history of the human world's version of Daring Do!
Revised November 27, 2022!
This is my first real shipfic and something I've been incredibly excited to write. A spiritual sequel to my previous fic "Late-Night Conversations" (which is in the same continuity, along with its direct sequel, but isn't necessary to understand this story). OC tag refers to a minor character, Twilight's college roommate.
Chapters (6)