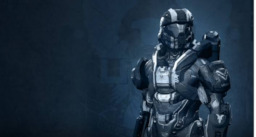 Spartan-127, whose real name is Parth is a renowned, lethal and powerful spartan III of UNSC ranking next to legendary spartan "spartan-117". As a lone wolf, He never joined any spartan team and always worked on his own. Because of his actions during human- covenant war like destroying 13 covenant planets, taking out battalions of covenant forces on his own and discovering a forerunner ship on an unknown planet on his own without any help, he was promoted to such a high rank where he could do anything he wanted and no one could question him, not even the ONI. For his further rewards, he was given the forerunner ship that he discovered and so he was given permission to go anywhere in space, do slip space jump to any location he wished and no one could question him. He is considered as a hero in front of civilians.
But instead of taking advantage of such post, he used it for better for mankind, he set on a journey into outer space with a powerful Forerunner ship capable of destroying a planet with minimal weapon usage, to discover new habitable planets and possibly, another alien life which would be friendly as compared to that of covenant. Little did he know that he would discover aliens who also proved to be humans, about whom UNSC no nothing about within one year of travelling. Join him on his journey, as these humans help the spartan to understand what it means to be human and help him find love and peace in life.
The cover image shows how spartan-127 looks like.
Note => rated Teen due to mild swearing and the wars that will occur within the story as it progresses. Please do comment in the comment section and notify me about my mistakes as it is the first time I am writing a crossover fiction.
Also, all characters from equestria are humans in my story
Chapters (7)