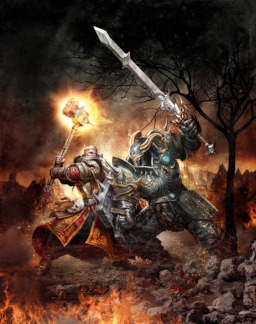 Source
A Warhammer Fantasy, MLP crossover.
Following the Changeling invasion the land of Equestria returns to relative peace. Princess Luna, furious at her own absence during Equestria's time of need leads the Royal Guard in pursuing and expelling the bulk of the remaining changelings. The hunt to root out any changelings that have gone to ground in Canterlot has been left to Trottingham Guard Captain Forlorn Wind as the Canterlot Guard finds itself stretched across the land.
Markus Holstein, Arch Lector of the Cult of Sigmar, leads a splinter force of veteran Empire state troops with the support of a Magister of the Light Order to hunt and destroy the two Tzeentch Sorcerers at work on a nefarious and unknown spell. The ensuing magical feedback from the Magister's attempt to counter twists the nature of the Sorcerer's work. A gateway to another realm is created and the beleagured Empire army is forced to retreat into the unknown.
The evil of both worlds however does not rest; the Tzeentch Sorcerers survive their spells corruption, finding themselves in a new world with their loyal followers. Elsewhere Chrysalis, Queen of the Changelings, bitterly broods over her defeat from within the depths of the Everfree forest with a collection of her own devout minions.
Please comment or like if you appreciated the story and thanks for giving it your time.
Chapters (28)