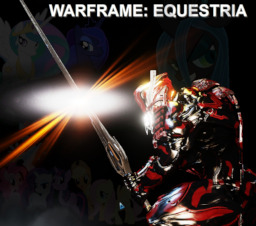 SPOILER!: This contains lore and what the Warframes really are. If you haven't played the Second Dream quest and don't want to be spoilt, do not read until you complete it.
My name is Karn, it's been over one-thousand years since I became a Tenno.
I've faced all sorts of horrors and challenges.
The grineer, a race of clones, seeking out others to stabilize their own DNA and hating anything or anyone not like them.
The corpus, a conglomeration of commercial and industrial interests, they acquire Orokin technologies and warframes to trade and sell using any means necessary.
The Infested, an ancient plague created by the Orokin to combat the 'Sentients' but has spread throughout the system.
Me and the new Tenno Greavus who uses the new Nekros warframe were sent to assassinate a grineer general, but Greavus struck a deal with the grineer and left me within the ship while the grineer tried to take my warframe for experimenting. Long story short, they failed.
I barely managed to escape to the void in an attempt to take down Greavus, but my Orbiter and Liset are damaged during flight.
My Orbiter exits the void right above a bright planet. With its engines down, the ship crashes right into a city on a mountain during an invasion.
I arm myself and leave the Orbiter, but for the first time in centuries, I'm not prepared for what greeted me... Small colourful equines.
Warframe/MLP crossover, image is my rhino warframe and the one used in the story.
Chapters (30)