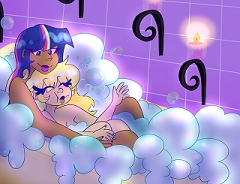 Source
This story is a sequel to The Derpy I Know and Love
---
It's theorized that our universe is just one of an infinite number of universes. Some parallel and some not quite parallel, some identical (I am frightened at the prospect that there's someone out there as screwed up as I am) and some completely alien.
This story is not in the 'Equestria Girls' universe. It is MLP:FIM set in a parallel universe that is slightly different. In this universe, the mane 6 were always human. There are no half-pony forms nor is there any contact with the MLP:FIM universe. Magic is not known to this world other than the stage type like Trixie performs.
Also, not everyone's family situations are the same, as you will see.
This is perhaps how 'The Derpy I Know And Love' would have turned out in this universe.
It was inspired by the above art work.
Illustration created for me by: A Dash of Delight
https://adashofdelight.tumblr.com
Chapters (7)