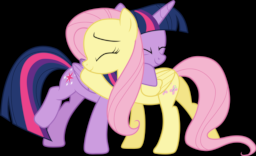 Twilight Sparkle, even after discovering friendship and being elevated to The Princess of Friendship has still maintained her love and affinity toward books. At every opportunity she gets, when not interacting with friends or family, she has her muzzle in a book. It's her comfort zone, she feels secure and happy.
But truly happy?
Fluttershy had friends before Twilight Sparkle came to Ponyville to oversee the Summer Sun Festival. In spite of these friends, she'd rather have stayed in her cottage surrounded by a plethora of woodland creatures than actually interact with her fellow ponies, even her friends, sometimes. Now after several years of the group becoming closer, Fluttershy had come out of her shell, at least most of the way. But she could still be insecure and to herself quite easily.
But does she really want to maintain that shield of isolation?
Now something happens to open their hearts to the next stage of friendship. And discovering that a close friend may be the answer to making their lives complete. Filling a void that neither acknowledged that was there. And they'll have to admit to feelings they never let themselves acknowledge.
If these feelings are admitted, then there is an issue to overcome:
A fish my love a bird, but where would they build their home?
Chapters (9)