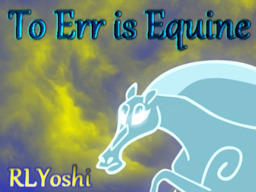 Have you ever been in that situation where your life just completely turns around, throws you into Equestria, and turns you into a Windigo? ...okay, that may be getting a little too specific.
I'm Arrell - well, that's what I'm called now. I used to be a human, and now I'm a Windigo. What am I doing? Well, aside from enjoying cold places, breaking the fourth wall, and occasionally getting involved with ass-kickings, not a whole lot. It's surprising how mellow life can be when you're in the body of a creature normally seen as demonic...of course, it's become a lot less mellow now that these articles have started showing up. Strange objects from other dimensions possessing unique and dangerous properties, and I have to retrieve them.
...all in all, could be better, could be worse.
[Chess Game of the Gods story. Sequel here.]
Chapters (56)