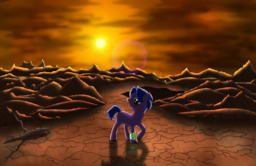 Stable 14 is an okay place to live. It's a large system of safe and comfortable rooms underground, sheltering ponies for countless years. Living within this Stable is Cobalt Blue, an earth pony colt who lacks a cutie mark and the ability to stay focused. He spends his free time crawling around the vast complex of Stable 14, trying to combat his boredom. But, of course, he has to stay inside the Stable; leaving it and heading out into the Horseshoe Wasteland (assuming it even exists) would be breaking the rules. But yes, Stable 14 is an okay place to live, and nothing will ever change that...
...until Cobalt's tenth birthday. When a sudden block in the ventilation system is blamed on his little adventures, he finds himself trying to escape his own mother - along with everypony else inside. They've gone crazy trying to find and punish him for putting all of their lives at risk, and his father isn't there to protect him. Grabbing everything he can, Cobalt escapes the Stable and runs away into the Wasteland. Now he truly has no future; no cutie mark, no friends, and no idea where anything is. But it IS a new place, and he does so love exploring...
---
- Cover artwork by fluffycawwot. Full-size image here.
- This story is tagged as Comedy rather than Sad because, in my opinion, it has more of the former than the latter; however, expect there to still be sadness abound. It's a Fallout Equestria story, after all.
- I've edited this story to take place in a "different" Wasteland so that I won't be trying to use locations or events from the original Fallout Equestria story, and to avoid confusion.
Chapters (12)