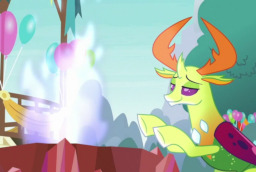 Let's face it, Thorax is a trooper.
Not because he survived getting his love eaten by Chrysalis then took over the Changeling Empire, but because he managed to survive in the Crystal Empire with Phototaxis.
How will Thorax strive to fix something ingrained in his Biology? Will he stop getting distracted by Shiny things?
---
This story is inspired by the Lamp meme.
Chapters (5)