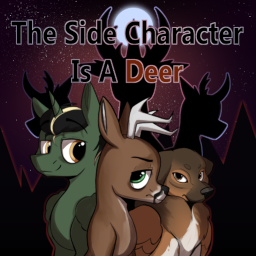 After dying in a car crash, (or whatever generic Isekai opening best suits you) Johan finds himself in the magical world of Equestria. Of course, magic is subjective, especially considering that Johan doesn't have it in the slightest.
This of course is a major breeding ground for jealousy, as Johan finds himself growing more and more jealous of his friend Derek, who has seemingly lucked out, arriving in Equestria as an Alicorn of all things. It becomes rapidly apparent to Johan that he is now nothing more than a useless side character in what is, for all intents and purposes, an Isekai Anime.
It is now up to him to desperately struggle his way through life, in an attempt to break out of the mold of being a side character, but the universe seems to want to do nothing but throw problem after problem in his face. This is going to be hard.
---
Cover by: Lux Arume links to their accounts can be found here:
Fimfiction
Twitter
First Featured 2/5/2021
Featured again 9/25/21
Featured again 11/12/21
Featured again 1/13/22
Featured again 1/22/22
Featured again 2/2/22
Featured again 2/5/22
Featured again 2/21/22
Featured again 4/21/22
Featured again 10/24/22
Chapters (35)