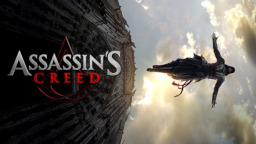 My name is Orion direct decedent of Altaïr Ibn-La'Ahad the greatest leader of the Assassins and Ezio Auditore da Firenze the Assassin that restored our order. Being a decedent of the family the Templar's hate most also makes my life a living hell. Doesn't help that I'm the last Assassin on earth, (thank the Templar's for that) and also have both Altaïr and Ezio's Apples of Eden. After running in to a gaming convention to escape my Templar pursuers and almost dying I find myself in a new world. Now free from the Templar's wrath I might finally be able to find peace and maybe, just maybe rebuild the Brotherhood.
Big shout out to JohnrId03 for assisting me in the creation & development of these characters.
* Warning there are BIG spoilers in the comments so be careful if you read them.
*Big side note you will have to have played or watched the Assassin's Creed games up to Assassin's Creed: Revelations to actualy understand parts of the story.
Chapters (7)