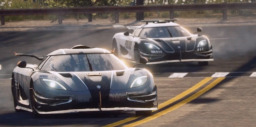 Source
You know, after reading many displaced stories I never imagined that buying a scaled Koenigsegg one:1 would land me on the same situations of those stories, only that I do not have any cool powers but some really good skills and a very rare and expensive earth car. Even though, Celestia did not like any of that and thought that by stoning me and confiscating my car I would change. Well, she is going to learn that she must not piss off a human as he will give a sh*t if you move the sun or not.
Even though I am really mad at her, I have more important problems to solve.
Starting by the butterfly effect that my car caused.
While pissing off the princess and another human.
Also, who is that misterious unicorn mare that had almost beaten me in a race?
Expect crossover with racing games such as need for speed and asphalt.
Chapters (8)