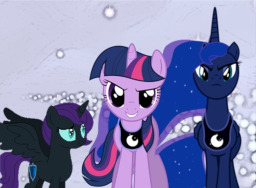 Nyx is learning magic and flying under the best tutors in Equestria, but something keeps going wrong with her magic. It is soon clear that a dark force is at work and all the alicorns in the ruling quadrature have to reconcile their own fractured relationships in pulling together to save Nyx and Equestria.
This fic takes place some time after the end of Past Sins, drawing upon the characters and relationships established by the excellent Pen Stroke.
Please note this short story is not a sequel, but a spin-off starring Nyx, the lovable alicorn filly adopted by Twilight Sparkle.
There is some 'T' rated gore in Chapter 6. Clear instructions are provided explaining how to skip past this passage for readers who do not wish to see it, and an 'E' rated summary is provided so that these readers do not miss out on the storyline.
Chapters (13)