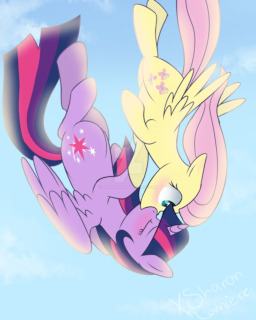 Source
Twilight Sparkle and Fluttershy. It seemed an odd pairing and such a tepid begining. Despite having admitted her feelings for Twilight, Fluttershy doesn't believe that she is ready for a full blown relationship.
Twilight, however, has other ideas as she realizes just how deep her feelings truly run. She is torn between expressing herself and a desire to not push Shy too far too fast.
Well, what's a Princess to do then?
Continuity: Homecoming
Chapters (1)