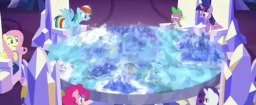 Pinkie Pie and Rainbow Dash got to go to the Griffin Kingdom.
Rarity and Applejack got to go to Manehattan.
Stuck in Ponyville without any magical Friendship Quests to go on, Twilight can do little but try to unlock the secrets of the Cutie Map herself. Fluttershy tries to help.
It doesn't go well.
(Set in the same vague continuity as the rest of my fanfics- in particular, this takes place some time after I Am Trying to Break Your Heart)
Chapters (1)