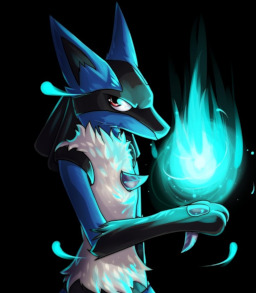 Source
Sunset Shimmer, now Champion of the Sinnoh Region, recounts a tale to one of her fellow Champions, about how she met one of her best friends and partners. It started like any other day for Sunset Shimmer on her Johto Journey, arriving in Cianwood for her next Gym Badge. Normal, right? However, when she stumbles across a Lucario who she suspects may have been abused by his former trainer, suddenly Gym Badges are the last thing on her mind. Instead, she faces something far more challenging. Can she fix what's been broken, or is she doomed to failure?
(Takes place before Lights of the Burned Tower)
Pokémon belongs to the Pokémon Company and Nintendo and I make no money off of their wonderful world of delightful creatures and locations. Only Pokémon stuff I own is an Eevee plush and a few figurines...
Rated T for teen for several moments of Pokémon Abuse, Pokémon on Pokémon violence and strong language.
Edited by Legolassy123.
Chapters (10)