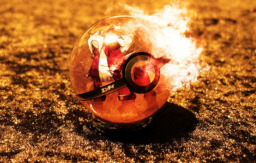 Source
So, trip to the Burned Tower in Johto region just to catch a glimpse of the famous Pokémon Entei? (Maybe even capture it?) Seems simple enough right? Well, that's Rainbow Dash's dream. Just to see that Pokémon once more. However, when the winds of October 31st blow, ghosts of the past haunt this tower and she may be the one finding herself getting burned. So, as ever, it's up to her best friend to bail her out.
Rated T for Pokémon on Pokémon violence, minor language and certain jokes.
Proofread by Magic Step and Mouth of Mush. Thanks, guys!
Written for the Fourth Flutterdash contest. Prompt is:
Nightmare Night, what a fright, give me something sweet to bite!
Chapters (1)