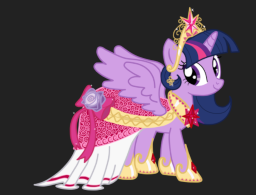 Source
"Dearly beloved, we are gathered here today to join this stallion and mare in holy matrimony..."
The most joyful words to any relationship, the start of their wedding. For Twilight it has been long overdue and with her being the last of her friends to tie the knot, it was not a matter of if but when. When the day arrives, Twilight gives her family and friends a shock by what she is marrying.
Inspired in part by Damaged's "Extra Cheesy" and "Totally Cheesy"
Chapters (2)