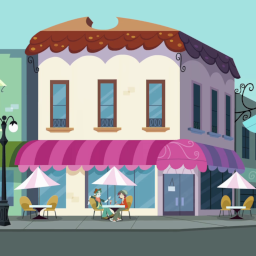 This story is a sequel to Best Pegasus
---
I watched Legend Of Everfree today. I had heard one spoiler for it, which turned out to be completely false. But when I heard that spoiler, this is the scene I imagined. I was sad the film proved it untrue, so I wrote it down. This is the post-credits stinger scene I dreamed of.
Of course, I then remembered the thousand-word minimum limit, so I had to add another scene first, based on my last holiday with friends, which made quite a happy epilogue in itself, to then be followed by the cliffhanger.
Spoiler warnings: I don't think there are any spoilers in here for Legend Of Everfree that you wouldn't be able to guess just from that film's title and summer camp premise. I think I'd have written this story exactly the same even before seeing the film. The only potential spoiler is confirmation by omission - what happens in this story does not happen in the film, so it's a spoiler to be able to rule these events out. Sorry, I wish they had happened, and rendered this unnecessary, but they didn't.
This story and Best Pegasus have no characters or events in common, but both serve as prequels to Haunted Wasteland if you want them to. They don't have to, though, as all three function as standalone stories, and no knowledge of the others is required.
Also, this has nothing whatsoever to do with The Jungle Book, I just liked the pun title. And a big shout out to CGPH - I can't quite 'thank' him for the (false) spoiler, but this story definitely wouldn't exist without it, so it's all good.
Chapters (2)