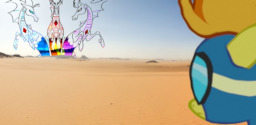 Source
A glimpse into the private lives of sirens, as Spitfire attempts to locate a missing Fluttershy.
How does a villain find happiness, if not through world domination?
---
Takes place after the end of season six, ignoring later events. Follows on two years after Best Pegasus and six months after King Of The Stingers, though no knowledge of either is necessary.
Edited by NaiadSagaIotaOar.
Chapters (12)