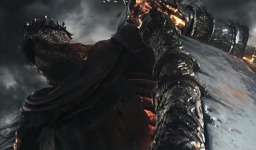 The Reclusive Lord of the Profaned Capital.
The Grand Betrayer.
The Last Giant.
Yhorm...
Yhorm The Giant has been treated as a menace ever since he first stood for the people that once called him monster. He took the mantle of Lord for wanting peace and prosperity for the Capital, but it only caused ruin. So much ruin, that it destroyed the Capital and charred all but stone. But that was a long, long time ago. Now Yhorm is dead. Slayed by the True Lord, Yhorm's Soul will be on a journey that no one expected.
---
This takes place in the Displaced-Verse! I saw that the trend of human + game costume + the merchant giving an item them = adventure has been... HIGHLY saturated. So I figured I would take this a step in another direction, with the character themselves going to Equestria. So Prepare for the long haul...
Chapters (1)