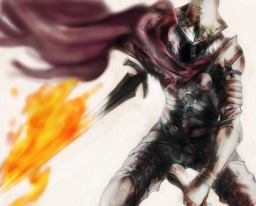 An Abyss Watcher's soul is torn from the whole, sent flying through reality upon the event of a Great Betrayal.
Finding himself within an entirely new world, he discovers a new purpose under the guidance of the moon, charged with the protection of her subjects. It is something to hold onto, to resist the Undead Curse for at least a little while longer.
However, a darkness rises again in the Frozen North, seeping into all that is good. The old king of Shadow, Sombra, will challenge the Watcher's newfound connection with this world and its princesses.
---
A Dark Souls 3 Crossover.
Takes place during the middle of Season Three.
Edited by The Dark Soul.
Chapters (15)