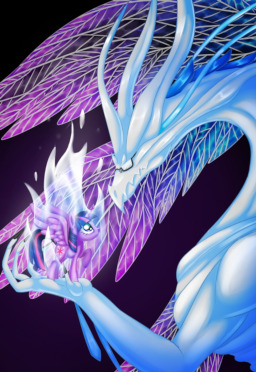 Source
Seath the Scaleless, White Dragon God of Verdite, Traitor to the Everlasting Dragons, Duke of Anor Londo, Grandfather of Sorcery, and now the new friend and mentor to Twilight Sparkle? What will happen when two like-minded souls from opposite ends of the morality spectrum match wits? And what will remain in their wake?
A somewhat more meta twist on a MLP/Dark Souls cross-over, inspired predominantly by a few pictures I found of Seath and Twilight together, and my bewildered discovery that for all of the stories on this site that cover these two franchises, there's only one that focuses on Seath the Scaleless and so far it hasn't seen any updates in over a year ( http://www.fimfiction.net/story/68621/scales for those curious).
For those who haven't played either the King's Field or Dark Souls games worry not. I'll do my best to either explain the lore of both in the story itself, or add an author's notes for anything that gets referenced.
UPDATE: New custom cover art at last! Courtesy of Cryophase ( http://cryophase.deviantart.com/ )
Editing is courtesy of lunarstallion
Chapters (62)