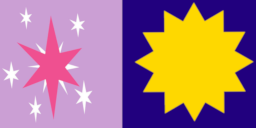 A first-in scout from the Associated Worlds investigates the anomalous star system IGS 254672, expecting to find the home of a machine god. She finds herself making first contact with sophont ponies instead. A couple of them are weakly godlike ponies, but still...
Neither world will be quite the same again.
Side stories and notes can be found here.
(This is actually a crossover with the original SF that I write as my day job, which is to say with the universe of Vignettes of the Star Empire and The Core War and Other Stories, and if you like - although it should not be necessary to read this - you can read a whole selection of the nanofiction I write in that setting over at the Eldraeverse blog. I also have a Patreon which exists to fund my ongoing original writing, but if anyone wants to give me money for this instead - I'm not asking, in this case, but you never know - I surely won't turn it down.
The Eldraeverse also has a Discord, which has an #advancedverse channel specifically for this fic's AU; feel free to drop in at: https://discord.gg/SnzkKhf
As such, I should warn you in advance, gentle reader, that updates may be erratic, because I also have said writing-as-a-day-job to do and it has to take priority. I hope that won't put you off.
Timeframe-wise, it's safe to assume these events start sometime in the middle of S3, and continue from there. The situation will of course butterfly-effect away from canon with reasonable speed, and there may be a few changes needed in the course of the fusion, hence the AU tag.)
Chapters (17)