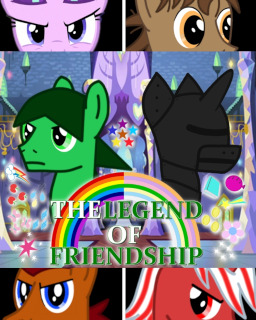 Source
In the little town of Ponyville, six ponies were destined to save Equestria...
But there is one pony that is thrown out of his life to accompany them who will learn about friendship for the first time even though he doesn't want that at all...
But what can he do about it? This is his new life after all.
Soon everything will make sense and he will find out the whole truth about the Elements of Harmony...
This story adds a male Original Character to the Episodes of Friendship is magic who was chosen as the seventh Element of Harmony.
Reading Order:
My Little Pony - The Legend of Friendship Season 1 + 2(Chapter 1 - 53)
My Little Pony - The Legend of Friendship - Diary of The Storm Wings
My Little Pony - The Legend of Friendship Season 3(Chapter 54 - 65)
Equestria Girls - The Legend of Friendship
My Little Pony - The Legend of Friendship - Outcasts
My Little Pony - The Legend of Friendship Season 4(Chapter 66 - 91)
Spoilers/ Season previews(Drag over to reveal)
Season 1 (Chapter 1-26): Star Twinkle is chosen by one unknown Element of Harmony and gets used to his new friends and all the trouble that they are involved to. Meanwhile, far away from Ponyville, a pony in a gray hood seems to know some things about Star Twinkle. But who is he?
Season 2 (Chapter 27-52): Discord the Lord of Chaos returns and it is up to the seven Elements of Harmony to defeat him. Meanwhile, a group of ponies called the Storm Wings are on the move to steal the Elements of Harmony. But for what reasons?
Season 3 (Chapter 53-65) The Crystal Empire has returned and it's up to Twilight and her friends to make sure to protect it from an Evil Unicorn King who was sent away with it. But at the same time, there is also another danger hiding in the shadows. A shadow that threatens to consume all of Equestria.
Season 4 (Chapter 66-91) Princess Celestia and Luna disappeared and it is up to the bearer of the Elements of Harmony to find them. Meanwhile, Star Twinkle is haunted by nightmares and more questions about himself that came with them. Will he find the answers? Or are they out there somewhere? Maybe he doesn't even want to find them at the end...
Season 5(Chapter 92 - 117) A mysterious map appeared inside of Twilight's new castle of Friendship. This map is summoning the princess and her friends to all kinds of places in Equestria to solve friendship problems. All except Star Twinkle, who feels left out in all of this.
Chapters (119)