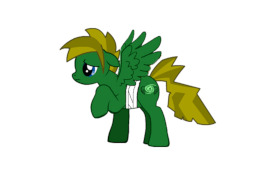 Source
And a secret that may bring pain to it's holder
Zephyr EarthWing begins his travels in search of a place that will accept his presence, with his first stop from Manehatten being Ponyville, and to escape what damage his secret has caused. Convinced that friendship is nothing more than a word, he subconsciously pushes all who attempt to befriend him away. But will he finally realize the true value of friendship? or will he ultimately break the heart of the pony who has a connection to his past?
---
Sweet Celestia i suck at summaries and descriptions. anyways this is my first story in fimfiction, and i hope it won't be too disappointing.
first of all; thank you contodaslasganas for helping me and giving me advice for beginning my story.
Second; all characters used in this story, save for my OC's and some of the storyline, is copyrighted Hasbro. also, any songs that i may potentially use belong to their perspective owners. I own nothing but my OC.
Thirdly; any comments or suggestions, positive or negative, are highly requested. I wish to make my first story as good as it can be.
Special thanks to 1 sp34k numb3r for editing my chapters (Chapter 22 and on)
Also, If you would like to make an enhanced/better cover art, it would be greatly appreciated.
Chapters (38)