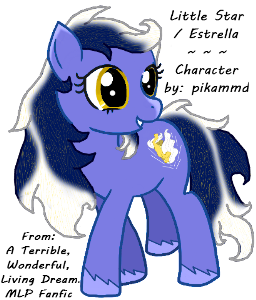 What happens when a new mares comes to Ponyville and becomes an integral part in everyone's lives? Little Star, or better known as Estrella, is a new Earth pony arriving in Ponyville by train. She carries no luggage and only wears a cloak Princess Celestia loaned to her. With a past to make many shudder but the chance to have a life outside of that and a kind disposition, who knows what'll happen? And what else is brought along? A familiar fashionable unicorn mare meets our skittish new friend at the train to lead her to the castle when confusion ensues. A tentative friend of ours, Discord, is stirring up trouble! Before long, our new friend is left alone, and an entire new adventure ensues. Entertaining some Chaos, meeting the Princesses, becoming friends with the mane 6, and trouble on the horizon. Nightmares, strange memories, shocking revelations, a death nopony would expect, a love of the same ilk, and much more!
Who knows what's going to happen?
~ ~ ~
Not the best description, I know, but I will play with it over time until it makes better sense. This story honestly is good, despite the paragraph above. I plan on action, secrets, strange twists, a unique look on old characters, relationships, and more! I'm also open to ANY suggestions! So, hope you enjoy!
~ ~ ~
I'd like to give out a HUGE thanks to prereader/editors that have/are helping me.
~ Malozi
~ Follow Focus
~ Eclipse Monsoon
~
I also thank everyone who's offered helpful comments as well!
Chapters (5)