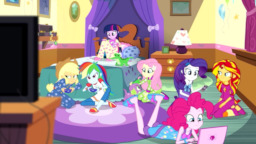 Twilight leaves her royal status behind when she visits Sunset and the girls in the mirror world. So what is the Princess Move and why is Spike so worked up about it?
This story takes place in the Equestria Girls world, between Rainbow Rocks and Friendship Games.
All characters copyright Hasbro.
Chapters (2)