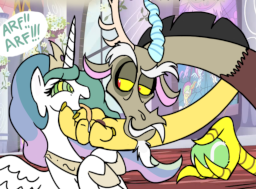 Source
Most days, Princess Celestia loves her job as the ruler of Equestria. Other days, it really grates on her nerves. Between frustrating council meetings, bothersome appointments with greedy subjects, and paperwork addressing countless issues from all across the country, Celestia deals with more than her share of stress in the span of a day. After an unannounced visit from Discord, Celestia suggests an idea for how she can not only get away from her job for an afternoon, but leave behind the stress and anxiety that it comes with, completely forgetting that it even exists.
She wants to be a dog.
While such a thing might not even make sense to the reformed master of chaos, Discord grants Celestia's request. The idea may seem fun to him at first, but before the day is over, Discord may learn that being a pet owner comes with its own set of headaches, especially when that pet is the princess of the sun.
Cover art used with permission by mickeymonster
Big thanks to Red_Rover for proofreading this story of mine in such a short amount of time.
Chapters (4)