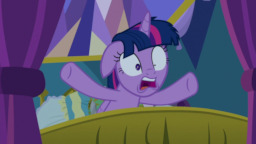 Source
We all have bad dreams. They can be unsettling. Thankfully when Twilight has a very specific recurring bad dream, she has her Royal Adviser and good friend Spike to remind her that her dream isn't real and will never be real. Ever.
Hope everyone's coping with the post-finale blues well enough. We'll get through this, I promise.
Edit: for those of you who aren't understanding it and are telling me this clashes with canon, yes, I am aware of that. I did that intentionally. This is basically my way of saying that there were certain things I didn't like about the finale making canon, so I made my own canon.
Chapters (1)