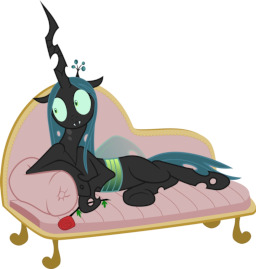 This story is a sequel to Advanced Lessons
---
Twilight has no idea how she's supposed to go about dating. It always seemed so mundane and unworthy of her precious brainpower. Now she's trying to romance Prince Blueblood, and has no idea what to do.
Fortunately, Chrysalis has some free time.
The Changeling Queen. Evil Mastermind, willing prisoner of Equestria, and Princess Celestia's significant other. That Chrysalis, was going to be offering her a bit of romantic advice.
There was no way, that Twilight could see that going well.
-A brief two-shot sequel to my story "Advanced Lessons" purely made for a bit of fun, at Twilight's expense.
Chapters (2)