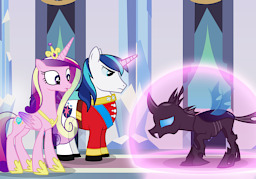 After three weeks of preparation, the plan was now set to begin. It was the last piece of the puzzle. All he had to do was show them, and hope that they would be willing to help. Otherwise, all was in vain, and everything they had been planning and fighting for would be over.
---
This is Official Canon of the story Changeling Doll. If you haven't read any of the Changeling Doll, I highly recommend that you read until at least chapter 9.
This story follows the changeling known as White Lie and his experience with the Princess of Love and the Captain of the Royal Guard. This is the serious side of the story, as least for the first little bit. Not meant to be comedic (yet). Sorry.
Chapters (12)