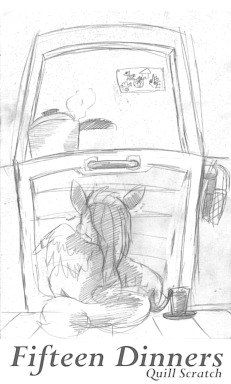 "A toast," Spitfire said, once the noise had quietened and everypony was still, "to Rainbow Dash, for holding the most records anypony in Academy history has held. It's no mean feat, and I'm sure we'll be seeing her continue to push herself well beyond our expectations in the future." There was a murmur of agreement that passed around the table, and Rainbow felt her wings twitch again. Before anypony could begin to raise their glass to their lips, Spitfire continued, "And to Soarin, who seems at last to have gained at least some level of emotional maturity in the past week."

Rainbow Dash's life is perfect: the Wonderbolts are so pleased with her performance at the academy that they've invited her out to dinner, and she's finally getting to spend time with her idols; she's finally managed to hold down a relationship for more than a few weeks at a time, and her marefriend, Twilight, has been more supportive of her than she could have ever asked for; and she's even gotten over her cider addiction, which turned out to be a much more pleasant change than she expected.
So why does it still hurt?
Written and edited over the course of 30 days for the National Novel Writing Month challenge, Fifteen Dinners tells the story of Rainbow Dash's struggle to maintain the illusion of happiness when the one pony that matters most has grown to hate her.
---
For David and JD
(who hate ponies, but keep supporting me anyway)
For Vocal Score
(whose music kept me going through this crazy month)
And, as always, for Robbie
(who somehow puts up with my writing, even for fandoms he knows nothing about)
---
Chapters (15)