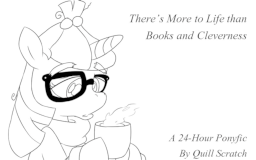 Source
This fanfic was written in 24 hours as part of a Charity Challenge to raise money for BBC Children in Need and is posted here exactly as it was at the completion of the time limit.
I went into this without any plan. I'm so, so sorry.
---
Moondancer's house has been destroyed, which isn't the best start to the week. Of course, she's more concerned with the closure of Canterlot Public Library, after plunder vines wreck the city .
With nowhere else to turn, Moondancer decides to seek out her once-friend, Lyra Heartstrings, in the hopes of finding a place to stay the night. But when she makes her first trip to the famed Golden Oaks Library, Moondancer runs into a familiar face—one that she hoped she would never see again.
Unable to go home, and with nowhere else to study, Moondancer soon finds herself spending more time with Twilight Sparkle, and is surprised to find that their friendship is not so difficult to heal. But is it really friendship that she wants?
---
This fic is dedicated to:
Dubs Rewatcher, Horizon, Callypony, Pineta, Lalzu, Oroboro, GMP, Dubs Rewatcher (again), FDA, and everyone else who has donated to the ongoing fundraiser!
(Also thanks to KingRui for the awesomerific, appropriately speed-drawn cover art!)
Chapters (8)