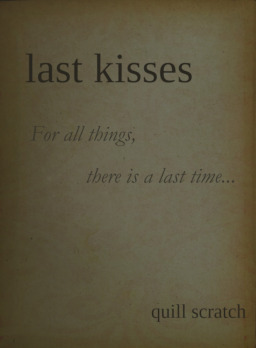 For all things, there is a last time…
Life is made up of these last times, but we can't know when they will be. There will, for each of you, be a last day that you walk out of your apartments or dorms. There will be a last day you see someone who is now a friend.
There will be a last day that we all meet here, on this odd little slice of the web. There will be a last day that I write a blog. There will be a last story that I submit... there will be a last day that I sign on. The same goes for you.
Six mares. Fifteen pairings. One (insane) fanfic.
Inspired in part by Ringcaat's The Combinatorics Project (and Quill's overwhelming love of all things Joyce), each chapter of Last Kisses takes one possible mane six ship and explores themes of endings, loss, and finality through their very last kiss. There are only two rules:
1) Each chapter is written in a style that reflects the couple's dynamic, or the story being told.
2) Each chapter must end when the kiss is over. No aftermath. No time to think it through. End of the kiss, end of the chapter.
Last Kisses is written as a loving tribute to the works of James Joyce, and was supposed to be written as part of the celebrations of Bloomsday 2015.
---
For Doseux
(Who wrote Lunnas Ache before I could finish Pinkies Wake)
For SS&E
(Whose work on .out.of.character. convinced me to give this crazy idea a try)
And, as always, for Robbie
(Who has by now read enough pony fanfiction that he really should watch the show)
---
Chapters (5)