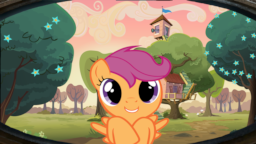 Crossover of BioShock and My Little Pony.
---
Huge thanks to Dubstep_Teaparty and Sexy Pudgy Pinkie Pie for editing
---
Scootaloo is an orphan, she has been trying to hide it ever since she escaped the orphanage. After being bullied by Diamond Tiara again Scootaloo whishes she had a big dad to protect her. She is about to get more than she bargained for when the universe decides to bend over backwards for her.
---
Alpha 9-2 was having a fairly normal day in Rapture until his little sister discovered a strange syringe of Adam. It turns out that one must never inject themselves with a syringe of unstable Adam. No matter how rainbow colored and pretty they are. Now he has found himself in a strange new body in a strange new land and with a strange new little sister.
---
Holy shit featured 12/5/14 thanks so much!
Asdfghjkl this is getting featured every time I update!
---
Huge thanks to Shadow Bolt for providing the cover image.
Chapters (11)