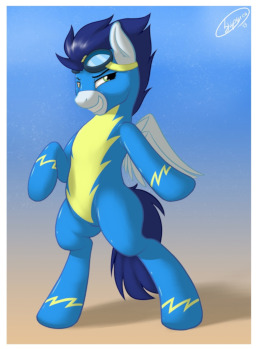 [ 2nd Person fic starring YOU and SOARIN ]
Wake up, go to work, go home, repeat.
This is the schedule of your average day as a Lieutenant in the prestigious Royal Guard, and you're perfectly content with that. Life continues on as normal as ever until you meet Soarin, Captain of the Wonderbolts for the first time.
And then your life changes in a way that you wouldn't ever have guessed.
Yes, this is a gay fic.
Rated Teen for mild language and sexual references. There will be no clop in this story (I will be posting clop in a separate, Mature story).
Picture created by Skipsy. God I love Skipsy
https://derpiboo.ru/310056?scope=scped66c651b2d94ecc26b959202b88c2bcd84e38beb
Chapters (6)