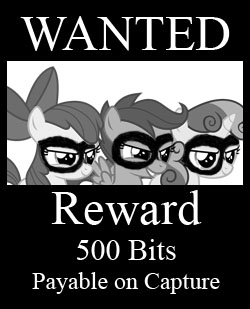 A new shady company took Equestria by surprise. Hundreds of local apple farms were going out of business all over Equestria, unable to compete with unrealistically low prices.
The famed Apple family was no different. Their customers started buying less and less, the wealth dried up and the fights started as the family plunged into financial ruin.
Apple Bloom watches her family and life fall apart before her eyes. Argument after argument about selling the farm and having no place to go if they did.
Just as Applejack has done everything for her, Apple Bloom feels it's her turn to do something for Applejack; but what? There's no length she won't go to, to save her family, the farm and everything she holds dearly.
---
Editors: Pixel Pony, Twilight_Scratch and Pony of Lore.
Proofread by: Mayhew Cullen
Cover art by: Mayhew Cullen
Chapters (5)