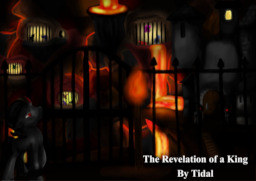 ~3rd Place Everfree Northwest Writing Contest Winner~
Sombra has been sentenced to "The Pit", one of Tartarus' pony prisons. In the underworld, it's hard to care for anypony other then yourself. Sombra is no different, looking only after himself, longing to return to the overworld and regain his throne in the empire. Events transpire however... changing Sombra. When introduced to an unusual thing, he begins to feel his heart softened as it was many years ago.
Though in Tartarus, friendship does not last forever, and the more you try and remember it... the more you forget it.
Thanks to the following awesome users for Pre-reading!
Surry
LevelHeadedBrony
GrayStorm
Night Spark
Zealous
Biker_Dash and my amazing girlfriend, Ensemble.
Chapters (1)